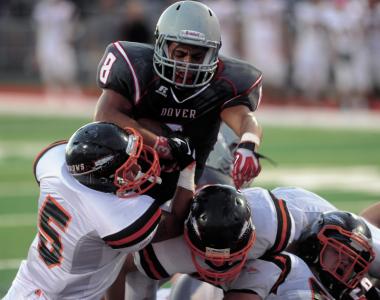 Dover survives shootout with Ashland
Sep 07, 2013 12:57 AM
By ROGER METZGER
Times-Reporter sports writer

DOVER During the past four meetings, Dover and Ashland have made a habit of taking advantage of home field.

Each team has alternated home wins the past four seasons.

Friday night, it was the Tornadoes' turn to win — but barely.

Junior Cory Contini caught a leaping 54-yard touchdown pass from junior Merrick Mamarella with 2:46 remaining and junior Evan Snyder intercepted a pass with 32 ticks left to lift Dover to a wild 47-42 high school football nonconference win before a large crowd at Crater Stadium.

Dover improved to 2-0 on the season and extended its regular season home winning streak to a record 31 games.

Last week's win over Loren Park broke the old mark of 29 set back in the 1930s.

Ashland dropped to 0-2.

Dover led 35-20 early in the third quarter, but Ashland remained within striking distance and made a game of it in the fourth quarter.

A safety by the Arrows started the comeback and narrowed the Dover lead to 35-22 and a 15-yard interception return for a touchdown by Tyler Wilson followed by an extra point by Jacob Allton cut the Dover advantage to just 35-29.

Dover took a 41-29 lead when Mamarella and Contini hooked up for a 47-yard touchdown early in the fourth.

Again, the Arrows came right back and trimmed their deficit to 41-36 on a Lenzo Dampier 2-yard scoring run at the 8:06 mark of the fourth followed by Allton's extra point.

Ashland took its first lead of the game at 42-41 after Christian Langston caught a 19-yard scoring toss from Nick Zurcher with less than four minutes to play.

However, the Tornadoes kept their cool and came back big time.

Mamarella, who threw four TD passes, but was victimized by four interceptions, fired a pass toward Contini.

The speedy junior went up high, split a pair of Arrow defenders, came down with the ball and raced 22 yards to paydirt to give the hosts a 47-42 lead with 2:46 to play.

A two-point conversion pass play from Contini to Alex Bowman missed and the Arrows still had a chance to win.

The Dover defense appeared to get the stop it was looking for on fourth down, but a pass-interference call against the Tornadoes gave the visitors new life at the Dover 47 with two minutes to play.

Ashland moved the ball down to the Dover 34 with the clocking winding down, but Snyder ended the threat as he picked off a Zurcher pass at the 3 and returned it to the 22 to seal the Tornadoes win.

Dover took the opening kickoff and marched 85 yards to paydirt when Mamarella hit Evan Snyder with a 5-yard scoring pass with 7:29 left in the frame.

Kyle Abel, who missed the first game of the season with a broken finger, intercepted Zurcher to set up Dover's next score, a 6-yard scoring toss from Mamarella to Bowman.

Ashland got on the scoreboard in the second when Allton scored on a 4-yard run with 9:37 left before halftime. However, the point after was wide and Dover still led 14-6.

The Tornadoes countered with some trickery in their next scoring drive when Contini threw a 20-yard halfback scoring pass to Tamarkis Williams.

Ashland didn't roll over and countered with a big scoring drive capped by an Allton 8-yard scoring pass from Zurcher with 4:37 left. The Arrows went for two points and were successful as Allton and Zurcher hooked up again to cut Dover's advantage to 21-14.

But Dover's Jordan Mills re-established momentum with a big kickoff return to the Arrows' 12.

Four plays later, Jaylin Woods plunged over from the 1 out of the Diesel power package and the Tornadoes took a 28-14 lead into the locker room.

Ashland scored first in the third on an Allton 3-yard run, but Woods countered with a 3-yard run to help give Dover a 35-20 advantage.

That's when the real game began.
Edited: Sep 07, 2013 11:15 AM by Roger Metzger