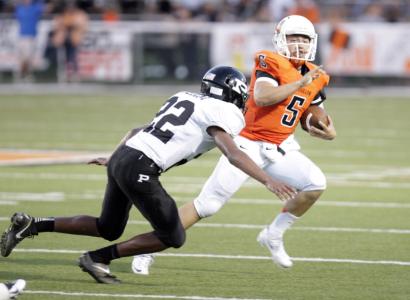 Sunday Special: Tigers quarterback has issue during opener
Sep 01, 2013 12:45 AM
By TODD PORTER
Repository sports writer
In the season opener Thursday night's high school football game against Perry, Massillon starting quarterback Andrew David reportedly was out of the game at halftime with a leg cramp. That's partially true.

"By the time I got to him on the field, both of his legs were cramped from the waist down," Massillon head coach Jason Hall said. "It's painful."

David went into the locker room and was hydrated, including use of an IV. However, that didn't work. In the second half, there were some tense moments as parts of David's body began to convulse.

He may have been suffering from heat exhaustion, and eventually went to the hospital until the early morning hours Friday.

"He is a profuse sweater," Hall said. "He can sweat just standing up. He had a full body cramp that needed to be taken care of."

David had a nice half of football going in the opener. He just missed on a long pass that would have made his 7-of-10 passing stats look a lot better at 8-of-10 for over 100 yards had it been completed.

Jason Hall went with Danny Clark after David, and Clark, for a freshman, played pretty well getting thrust into the role. Clark and David battled all summer for the starting job, which David eventually won because of his experience with the offense and reading defenses.

Hall said he expects David to be back and healthy to start against GlenOak on Thursday.

"I've said all along I'm happy with all our quarterbacks," Hall said. "We're in a good situation."

Clark, whose family has nicknamed him "The Prototype," is going to be a nice quarterback for Massillon in the coming seasons as he gains more experience. However, if David is healthy to start Thursday against GlenOak, and he should be, Hall likely will go with the junior who earned the starting job in the first place.

But it is good to have competition among positions into the season. It pushes both players to become better and work on their areas of weakness.

WHO'S BEST IN FEDERAL?

After one week of games it still is difficult to project the best team in the Federal League because this is one of those years where there doesn't seem to be a clear-cut favorite. But at the risk of looking like a fool in two months, here is something to digest:

Best teams: McKinley and Jackson, and maybe not in that order.

Don't count 'em out: GlenOak and Lake.

Some work to do: Hoover and Perry.

JACKSON CONCERN

The Polar Bears looked especially strong on offense and put up 61 points against Akron East. Quarterback Tyler Langenfeld threw for 219 yards and two touchdowns. Jackson also ran for 192 yards.

So what's the problem?

The Polar Bears gave up 38 points to Akron East.

McKINLEY KICKING

Aside from having a field goal blocked, McKinley's kicking game is vastly improved from last year. Senior Austin Shaheen was perfect on all five of his PAT attempts, and none of them just made it over. All five of Shaheen's kicks had some height and distance. He punted extremely well in the opener, too.

This is a big difference from the last two seasons. PATs have not been gimmes, and in close games, it often led to the Bulldogs chasing points or leaving them on the field.

PLAYING WITH SWAG

McKinley's star player Eric Glover-Williams is often the best player on the field on any given game night. He carries himself that way, too. Before a few punt returns, Glover-Williams danced down the field during pre-snap.

It is the kind of attention Glover-Williams, who committed to Ohio State for the 2015 recruiting class,

doesn't need to bring to himself. He already is playing with a target on his back because he is the first member of the 2015 Buckeye recruiting class.

LAUGHING IT OFF

During the Buchtel game Glover-Williams made a mistake that otherwise would have been costly against a better opponent. On a punt return, the ball was coming to a stop and about to be downed by Buchtel. Instead, Glover-Williams tried to pick it up. He immediately was hit, and fumbled. McKinley recovered, but it was a teaching moment for head coach Todd Filtz.

"He just said I need to make smarter plays," Glover-Williams said, smiling.

Yeah, that's probably the newspaper version of what was said.

HOOVER SURPRISE

Hoover started the football season with a loss to Stow, the second time in the last six seasons Hoover opened with a loss. The Vikings also lost to Stow in 2011 to start the season. They finished 3-7 that year.

Hoover head coach Don Hertler Jr. isn't pushing the panic button, but he is trying to find some patience. The Vikings were without four starters for the game because of injury.

That is no excuse, though. Hertler said his team left plays on the field.

"We have a lot of new guys and we missed on a lot of plays that were right there on both sides of the ball," Hertler said. "Stow has a nice team. They have 16 starters returning. Our margin of error right now is not very big. We have some important guys hurt and that's not helping our depth. We have to grow up fast and make great improvements from Week 1 to 2, and we have to develop an identity."

Starters who missed the game were Jake Massolini (a defensive lineman), Chris Bledsoe (either running back or linebacker), Tyler Howell (defensive end or running back) and Kyle Braucher (safety and punter).

MEYER: WEED USE A PROBLEM

Ohio State head coach Urban Meyer believes substance abuse is one of the biggest problems in college football, particularly marijuana use. Universities do not typically release details of a one-game suspension for a violation of team rules, but that is usually lingo for a failed drug test, and it is usually a marijuana test that is failed.

"There's an issue in college athletics. Certain substances, things that I see," Meyer said in an ESPN interview. "It's nonstop. That's an issue right now in college sports — marijuana. I see it, not just in college football. I see it everywhere. It's an issue."

When pressed on it by host Chris Fowler, who pointed out marijuana is legal in many states now, Meyer didn't back down.

"I hear that debate all the time," Meyer said. "What's the difference with a 17-year-old having a beer? But that's illegal. Last I checked, we're not in the business of making laws, we just have to abide by them and set the tempo."

Want to help college athletics curb the marijuana habit? Make it an OHSAA rule that student-athletes will be randomly drug tested and that a failed drug test will result in a five-game high school suspension.

WORSTELL AT OSU

GlenOak graduate Reid Worstell is on Ohio State's roster as a walkon quarterback. Some people have emailed or called with questions about Worstell. He will not play this year, and probably not for the next three seasons.

Worstell is one of six quarterbacks on Ohio State's roster. Obviously Heisman Trophy candidate Braxton Miller is head and shoulders above the others. Fifth-year senior Kenny Guiton is the backup with so much respect that he has been named a captain. Then there's Cardale Jones, who is 6-foot-5 and 250 pounds. After that, J.T. Barrett and Luke Morgan round out the roster.

Morgan, like Worstell, is a preferred walkon. Barrett is a freshman as well, but he's a scholarship quarterback.

HOF CLUB WASTES NO TIME

The Pro Football Hall of Fame Luncheon Club will start its 51st season Sept. 9 at Tozzi's on 12th. The folks over there are wasting no time bringing in an A-list speaker.

Former Ohio State football coach and current University of Akron administrator Jim Tressel is in the leadoff position for the first meeting. Tressel's appearancees are the best attended lunches, and few speakers have been to Canton more.

Pro Football Hall of Famer Randall McDaniel is the second speaker.

Cost of a membership for the year is $35, as it has been for the last seven years. Cost of the meal every Monday is $12 for members and $22 for nonmembers. The membership includes a year's free admission to the Pro Football Hall of Fame as well as admission to athletic contests at Walsh and Malone universities.

J.D. Graham, a longtime high school football coach who won state titles at Newark Catholic, is this year's president of the group.

COLLEGE STARS CUT

Vince Young, Tim Tebow, Jimmy Clausen and Matt Leinart all were cut last week by their respective teams. Young was trying to become Aaron Rodgers' backup in Green Bay, but the Packers went with B.J. Coleman instead. Clausen, a disappointing second-round pick, never materialized in Carolina. Derek Anderson is Cam Newton's backup. Leinart and Tebow, both Heisman Trophy winners, were released by Buffalo and New England, respectively.
Edited: Sep 01, 2013 12:47 AM by bill snier