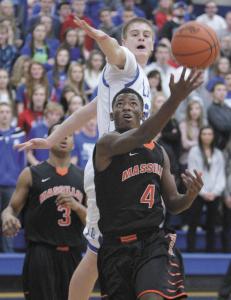 Tigers can't claw back against Lake
Dec 27, 2013 11:00 PM
By DAVID HARPSTER
Independent sports writer

LAKE TWP. Perhaps if the Massillon Tigers played the first 18 minutes of Friday's game at Lake High School with the same frenetic sense of urgency they displayed over the final 14 minutes, then they would've been the team leaving the floor with their spotless record still intact.

Instead it was the Lake Blue Streaks who moved to 8-0 by holding off a furious Massillon comeback in a 48-45 victory.

Massillon, which trailed by 18 points early in the third quarter, fell to 3-1.

"A lot of that credit goes to Lake. They're one of the elite teams in the county and they play really well here at home," Massillon coach Larry Taylor said. "Defensively we held the fort down for some time but we had some breakdowns, and when you do that, Lake's going to score.

"We were passive offensively at the start, but then the kids went out and just played basketball. We made a good run at them, but give some credit to Lake."

Mitchell Spotleson scored four of his game-high 28 points in the opening minute of the third quarter to extend Lake's halftime lead to 35-19. When Jonny Flower scored on a drive two minutes into the quarter, the Blue Streaks led 37-19.

Massillon responded by clamping down on defense and holding the Blue Streaks to just two field goals over the final 14 minutes. Two baskets by Ja'Ron King-Johnson, along with field goals from Jordan Stock, Terrance Block and D'Angelo Stewart, keyed a 10-1 Massillon run that left the Tigers trailing 38-29 after three quarters.

"Massillon changed up their defensive schemes a little bit, but I thought we had some great looks at the basket," Lake coach Tom McBride said. "We just seemed to go cold a little bit on the offensive end.

"I'm really proud of the way our guys hung in there and handled that adversity."

Caleb Peach's layin off Alex Belinsky's assist put Lake up 41-32 with 2:40 left. Spotleson, who hit 10-of-13 free throws for the game, drilled four straight in the final two minutes to help keep Massillon at bay.

The Tigers scored nine points in the final 40 seconds, Belinsky got loose for a layup with 14 seconds left to put Lake up 48-42. Block's late 3-pointer accounted for the final margin.

While he was pleased with the manner in which his team finished, Taylor was anything but thrilled in the first half. The result was a brief mass benching of four starters in the second quarter.

"They knew that Lake was beating us down the floor," Taylor said. "That was because we were a little too aggressive on offense, but we also weren't transitioning very well. That's one thing you can't let Lake do."

Spotleson got 19 of his points in the first half on a collection of jumpers, putbacks and transition baskets.

"We didn't really run a lot of specific plays for Mitchell tonight," McBride said. "He just went out and played basketball."

Stewart led Massillon with 14 points, while Block finished with 11.