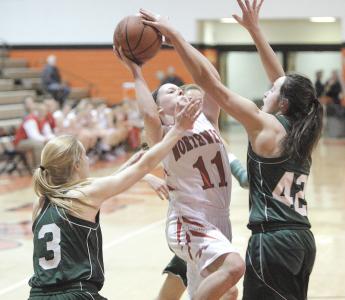 Central gets closer to doubling up in Mayor's Cup
Dec 19, 2013 12:06 AM
By DAVID HARPSTER
Independent sports writer

MASSILLON While their performance gave head coach Gary Isler plenty to work on before Saturday, the Central Catholic high school girls basketball team did enough Wednesday to have a chance at defending their Mayor's Cup championship.

Central Catholic took control early and steadily pulled away from Northwest for a 50-29 victory at Washington High School.

The win moves Central Catholic (5-3) into Saturday's 2:30 p.m. championship game of the 23rd annual tournament against Perry. Northwest (1-5) will face Massillon in the consolation game at 1 p.m.

"We've talked about this quite a bit this week," Isler said of defending the Mayor's Cup title the Crusaders won last season. "It would be nice for the small school to be able to double up on the Cup. The girls seem to be into it and it's definitely one of their goals."

Central Catholic performed better than its last visit to the Washington High School gym earlier this month, which resulted in a 51-43 loss to Massillon. The Crusaders' harassing defense, aided by their length on the wings, created constant issues for Northwest. The Indians struggled all night in getting shots to the rim, as they turned it over 16 times in the first half and 27 times for the game.

"That was not a smooth flowing game and we never could get into a rhythm," Isler said. "We missed a number of opportunities. We have six sophomores and a freshman on our team, so we're still learning how to win at times.

"Our passing has to get better. It's not there yet and it's a work in progress. We're getting there, but we're not there yet."

The turnovers were a continuation of a season-long trend for the Indians.

"We've talked about not turning the ball over this season and it's just been our nemesis," Northwest head coach Donnie Schenz said. "Central did a nice job with their 1-2-2 and they're long and they understand positioning.

"Our girls have to be a little more aggressive and attack more. We had two 10-second calls and that just can't happen."

After leading just 13-9 after one quarter, Central Catholic got some breathing room by outscoring the Indians 13-5 in the second period. Senior guard Hannah Miller and sophomore post Sarah Miller were in the middle of most of the Crusaders' offense.

Hannah Miller's driving bank shot put Central Catholic up 16-9. That was followed in short order by a three-point play from Sarah Miller and two straight baskets from Hannah Miller, the second of which was a 3-pointer that gave the Crusaders their first double-digit lead at 24-14.

Hanna Risaliti's basket sent Central Catholic to the half up 26-14.

The third quarter followed a familiar script, with the Crusaders forcing three straight Northwest turnovers. Central Catholic's balance showed itself in the third, as two baskets from Sarah Miller and single field goals from Katie Miller, Hannah Miller and Risaliti helped push Central Catholic's lead to 38-22 after three quarters.

Hannah Miller, Sarah Miller and Risaliti finished with 10 points each to lead Central Catholic, with Risaliti and Sarah Miller also adding five rebounds each.

Northwest's Maddie Worden had a team-high seven points.
Edited: Dec 19, 2013 12:25 AM by bill snier