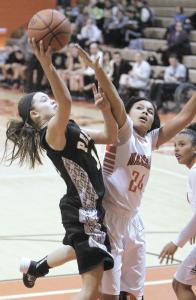 Perry rolls into Mayor's Cup final, tops Massillon
Dec 19, 2013 12:03 AM
By DAVID HARPSTER
Independent sports writer

MASSILLON Kimmie Borck, Karlee Pireu and Airelle Sibley didn't struggle through the Perry High School girls basketball team's six-win campaign last season.

Borck and Pireu were both in eighth grade, while Sibley was a junior at McKinley.

That trio, along with a roster loaded with underclassmen, are making sure history doesn't repeat itself this winter.

Led by Borck's game-high 22 points, Perry jumped on Massillon from the opening tip and rolled to a 54-40 victory in Wednesday's second semifinal of the 23rd annual Mayor's Cup at Washington High School. Perry (6-3) advances to face defending Cup champion Central Catholic in Saturday's 2:30 title game. The Crusaders knocked off Northwest 50-29 in Wednesday's other semifinal.

Massillon (2-4) will face Northwest at 1 p.m. Saturday.

The enthusiasm and energy that freshmen Borck and Pireu, along with sophomore Jesse Morosko, was evident from the start. The first of Borck's three 3-pointers gave Perry a 5-2 lead it would never relinquish, as the Panthers finished the first quarter up 18-3.

"Our kids have more energy, they're enthusiastic, they react when they get beat down the floor and they try to make up for it on the other end," Perry head coach Dave Waseity said after his team matched its win total from last season. "There's just some gumption there that we didn't have last year. Someone stripped us and we just hung our heads.

"The freshmen didn't experience last year, Airelle Sibley wasn't here for that and even some of our sophomores weren't around it all the time. It was a whole new outlook coming in and it started in the summer."

Pireu added eight points and a game-high 16 rebounds, while Sibley, a 5-foot-11 post, came off the bench for 10 points and eight rebounds.

"She's a game-changer when she can come off the bench and play like she can," Waseity said of Sibley, who transferred from McKinley in the offseason. "Other teams have a hard time matching up with her. She came in and contributed right away."

The spark plug was Borck, though, as the 5-8 guard, scored on an assortment of drives, jumpers and transition baskets. Her nine field goals were just one fewer than Massillon mustered for the game.

"I've always told her she plays like a guy," Waseity said. "She has that demeanor about her where she doesn't care who's doing what, she's going to take it at you, she's going to shoot it, she's going to make something happen. She's one of our ringleaders with her enthusiasm and energy."

Borck added four assists to go with her game-high point total, while junior point guard Britt Miner dished out five assists to help Perry to its second win over Massillon this season.

After Massillon drew within 19-10 early in the second quarter, Perry got two Sibley field goals sandwiched around one from Borck to pull away to a 25-12 halftime edge.

The Tigers never got closer than 11 points in the second half.

It's tough for any team to dig out of a 15-point hole, but Massillon head coach Mark Green was troubled by the fact it's been a season-long trend so far for the Tigers.

"We had trouble getting out of the game against Perry the first time, we had trouble against Green, we had trouble against Stow," Green said. "We were at home, we needed to come out ready and mentally prepared, but our kids got exactly what they deserved because we didn't come out strong.

"We played poorly top to bottom. I'm not proud of the way we played tonight and I don't think any of the girls should be either."

Shadrae Stinson had 11 points for Massillon, while Hunter Harris added 10 points.
Edited: Dec 19, 2013 12:03 AM by bill snier