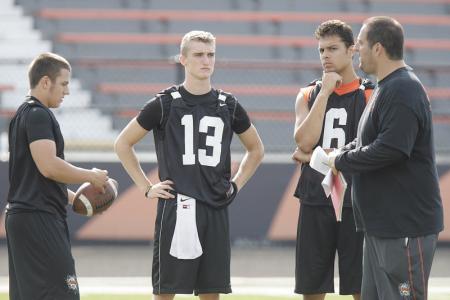 Massillon quarterbacks not in a battle for job
Aug 06, 2013 6:13 PM
By CHRIS EASTERLING
Independent sports editor
MASSILLON Three Massillon quarterbacks have spent the summer competing to become the replacement for record-setting Kyle Kempt as the Tigers' starter. But don't let offensive coordinator Badre Bardawil hear you call it a quarterback "battle" when talking about the competition going on at the position.
"We've never made it a battle," Bardawil said after Massillon's second day of two-a-days Tuesday. "I've never made it a battle; they've never made it a battle. It's not a battle. Teammates don't battle in my mind. They all have one common goal, and that's to do whatever it takes to make the football team successful."
Since June, it's been a three-way competition between senior D.J. Brown, junior Andrew David and freshman Danny Clark to earn that first snap Aug. 29 against Perry. For all three, there have been good moments, and at times, not-so-good moments.
That has carried over from the 10 summer camp days into the first two days of two-a-days this week. Of course, those two days have basically been mirror images of the offseason camp days, with the team still in only shorts and helmets.
Still, as Bardawil assesses the progression the trio has undergone since their first camp day, he feels good about the stage they're at in their development at this point in the preseason.
"I love where they're at," Bardawil said. "They have an understanding of our offense. Now it's about understanding defense every day and seeing the coverages. I like where we're at, definitely from the timing of our passing game."
That was evident watching all three during Tuesday's practices. All three spent both sessions working with the offense, even though only the second session was actually deemed a "priority offense" practice.
From the first day to the second, there was an increased crispness in all three's throws. Also, there was an increase in the number of positive plays they were able to string together.
There was also plenty of evidence that even the quarterbacks themselves — all while trying to become the starter — also believe in their position coach's words. All three had moments where they were offering a bit of advice to another, or helping get another in the right spot or play.
"They work great with each other; they work great with their teammates," Bardawil said. "That's ultimately why they can be a quarterback for this team. If that wasn't the case, they wouldn't be given the opportunity to be the quarterback."
For all of the positive steps, though, the fact both the offense and defense remain in a bit of installation mode right now is preventing a full evaluation. To that end, next week really becomes a critical week in terms of the quarterback competition, because the Tigers have scrimmages at Avon on Tuesday and at home Aug. 17 against Lorain.
Bardawil himself acknowledges that will be the critical piece in the overall evaluation.
"Ultimately, it's about being in full pads, seeing opponents' defenses," Bardawil said. "We really can't prepare for them. So it comes down to trusting your ability to identify coverages, getting the ball out on time. Ultimately, those are the things that will establish who will separate themselves."
That, though, doesn't mean a final decision on the starter will come during the course of that week. In fact, that choice doesn't even have its own time frame.
Instead, Bardawil — whose input head coach Jason Hall will rely on heavily to make the decision — wants his quarterbacks to focus on the micro (today's practice) instead of the macro (the Perry game and beyond).
"This is what I've made clear to our quarterbacks since Day 1," Bardawil said. "Our only focus is getting better each day. I know that's a lot of coach-talk, but that's been true as can be with our group. We never talk about starting Week One. We always talk about what we have to do that day to get better. They've done a great job of understanding the process and saying, 'If I just focus on today, everything else will take care of itself.' "
Reach Chris at 330-775-1128 or chris.easterling@indeonline.com.
On Twitter: @ceasterlingINDE
Edited: Aug 06, 2013 6:35 PM by Friday Night Ohio