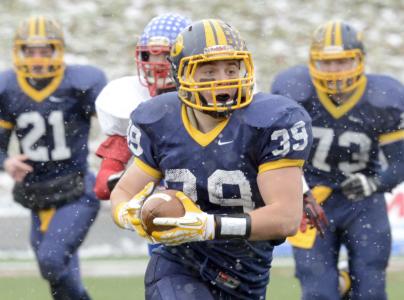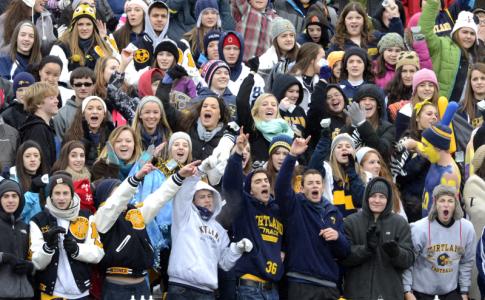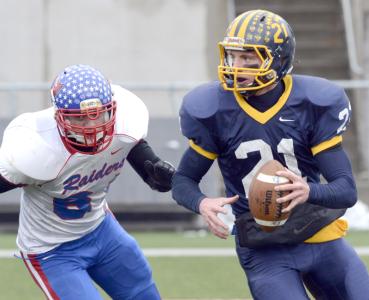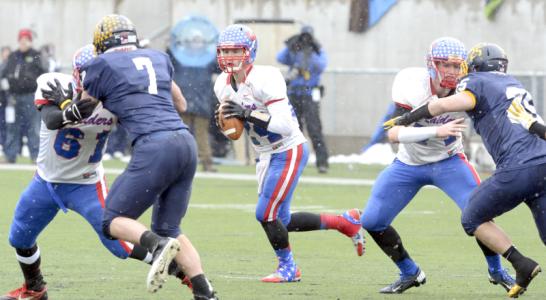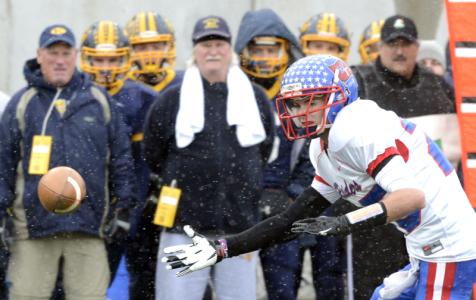 Kirtland is way too much for Wayne Trace in Division VI final
Dec 06, 2013 7:52 PM
BY JIM THOMAS
Repository sports writer
CANTON Kirtland's first pass play in Friday's Division VI championship game against Wayne Trace involved running backs Sam Kukura and Adam Hess.
"That wasn't my first pass," Kukura said later of his 45-yard gainer to Hess. "I threw four passes last week (in the semis). It was just me throwing to my cousin."
Those cousins and the Kirtland Hornets proved they are one big, happy family.
With senior Kukura rushing for 196 yards and junior Hess rolling for 177, Kirtland's powerful offense simply overwhelmed the Raiders for a 44-16 victory at Fawcett Stadium.
That capped a perfect 15-0 season, avenged last year's 10-9 Division V state title loss to Coldwater and gave the Hornets their second state championship in three years.
"It couldn't happen to a nicer bunch of kids, because they deserve it," Hornets coach Tiger LaVerde said. "I'm glad it's going to be a happy bus ride home."
VIDEO: Kirtland-Wayne Trace Highlights
Kirtland got off the bus running. It had 278 yards rushing by halftime and finished with 410 yards on 51 carries. With quarterback Sam Skiljan adding 133 passing yards with a deft touch on the ball, the Hornets piled up 588 total yards, fourth-most in state championship game history — covering all divisions.
If it seemed like they were just playing family football out in the backyard at the holidays, well, that's what they do in Kirtland.
"I grew up in a house of football," Kukura said. "My dad coached at Kirtland before coach LaVerde. I've been around Kirtland football my whole entire life.
"My dream is always to win a state championship. We did it in 2011. Last year, after losing, this is probably the best feeling I've ever had in my life."
It took a Wayne Trace punch to the jaw to open the second quarter to get the Hornets to pull together.
Down 8-0 after Kukura's pass to Hess set up Skiljan's 1-yard touchdown run and a Hess two-point rush, Raiders quarterback Colby Speice beat the secondary with a deep heave that Jake Arend took to the house for a 41-yard score. Speice's two-point toss to Jared Sherry knotted the game 8-8 with 11 minutes left in the half.
Then it was cousin time.
Kirtland scored on its next three possessions to run off 22 straight points and own the half, a 30-8 lead in hand. Kukura and Hess carried the ball 14 times in the 17 plays over three series, with Hess getting the fist two touchdowns on runs of 5 and 9 yards, setting the second up with a 68-yard run. Kukura then broke the Raiders' spirit with a 68-yarder of his own for a TD on first down the next drive.
When Kirtland opened the third quarter with a score, a 24-yard Skiljan TD pass to Ryan Loncar, the title redemption was complete.
"We like to run the ball," LaVerde said. "Those two guys do a great job. But it's all 11. It's certainly not two guys. Even though those guys had terrific years and terrific games, those five guys up front, they get after it."
Said Wayne Trace head coach Bill Speller, "They are definitely the strongest team we've seen this year. You can tell the weight room came into effect today.
"They are a physical, smash-mouth football team. That's why they're state champs."
Kirtland's defense never blinked after that early score.
Speice came in with more than 4,600 yards passing in his five-wide spread offense. But that pass to Arend was one of the few times he was able to get his feet set and go long against a Hornets defense that blitzed him throughout. Speice didn't find the end zone again until the fourth quarter, with the outcome long since concluded.
"They brought six, and you can't block six with five," Speice said after completing 18 of 44 passes for 262 yards and two scores. "Hats off to Kirtland, they brought the pressure and were ready to play. They definitely were the most physical team we played this year.
"They punched us in the mouth."
That's how the Hornet seniors won 44 of 45 games their last three years. And now they have a second state title to talk about at the family holiday gatherings.
Reach Jim at 330-580-8336 or
jim.thomas@cantonrep.com
On Twitter: @jthomasREP
Edited: Dec 07, 2013 1:35 AM by Benjamin Duer