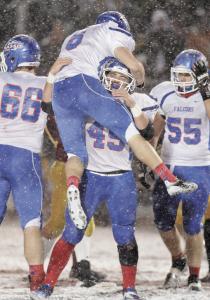 Clinton-Massie plays through snow and cold to win a second straight state title
Dec 06, 2013 7:39 PM
By CHRIS EASTERLING
Independent sports editor
MASSILLON The weather was frightful. As far as Clinton-Massie was concerned, though, everything was quite delightful.
When you're celebrating a second straight Division IV state championship as the Falcons were Friday afternoon at Paul Brown Tiger Stadium, what's a little snow to spoil the fun. Or a lot of snow, to be honest.
It was nothing for Clinton-Massie, which overcame the conditions and Cardinal Mooney to rally for a 27-21 win in front of 5,289 snow-covered fans.
"That's what you live for," said Clinton-Massie head coach Dan McSurley, whose team finishes 14-1. "Playing in the mud; playing in the snow. Gosh, I remember those days."
McSurley's team didn't actually hold a lead at any point until 1:03 was left on the clock. That's when Bayle Wolf ran in from 2 yards out to give the Falcons the lead, although the point-after try missed.
Wolf finished the game with 172 yards on 33 carries. He scored two other touchdowns, one to tie the game at 7-7 in the first quarter and the other to square things at 21-all in the third quarter.
VIDEO: Includes Clinton-Massie v. Cardinal Mooney Highlights
"It was definitely a different atmosphere," Wolf said. "I thought it was cool."
Clinton-Massie finished the game with 267 rushing yards. Wolf's younger brother Chayse added 91 rushing yards out of the Falcons' wishbone offense.
That wishbone was a slight variation to the Clinton-Massie game plan brought about because of the weather.
"Generally, we're more of a flexbone-type of team and do a lot of formations," McSurley said. "But tonight, it was obvious we were just going to stay straight in the wishbone. That's our base offense. ... We install the wishbone for just these types of games."
The score was set up by a questionable pass interference penalty on Mooney in the end zone on a fourth-down pass. That flag put Clinton-Massie on the Cardinal 10.
Two plays later, Wolf scored the go-ahead touchdown.
"I have to look at it on tape," Mooney coach P.J. Fecko said of the penalty. "I thought Mark (Handel) made a great play. I think the ball was thrown high, and as he was reaching for it, Mark poked at it. Once you poke at it, they both went at it and there's obviously going to be contact at that point."
Still, Mooney had a chance to tie — or even win — the game with one final drive. But after Cardinals moved to their own 49, a third-down interception by the Falcons' Jared Halley with 30 seconds left sealed the game, and the second straight state championship.
The game was marked throughout by a steady and heavy snow, a snow that blanketed the field throughout. Plows made multiple passes over the field during stoppages in play, attempting to clear at least the sidelines and hash marks of snow.
VIDEO: Plowing football fields
Both teams, though, felt right at home in conditions that lent themselves to a ground-and-pound game. Not known for their passing, they combined to throw 10 passes, completing just four total.
"It was two teams that like to run the ball," said Fecko, whose team finished 10-5. "I said it all week, touches of the football and possession of the football would be something that would be an important factor in this game. ... Obviously, at the end of it, we ran short."
Mooney rushed for 238 yards on 31 attempts, including 182 yards on 20 first-half carries. That helped the Cardinals open up a 21-14 halftime lead, with Handel scoring on runs of 68 and 13 yards.
Handel finished with 140 yards on the ground.
Clinton-Massie, though, limited Mooney to just two second-half possessions prior to its final, desperation drive. Neither of those drives reached Falcon territory.
"Really, we didn't change anything at all," Clinton-Massie linebacker Kelson Gauden said. "We just stepped up and followed the game plan like we did all year. In the beginning, we got off to a rocky start. ... The second half, we kind of challenged our defense to step up, and they did."
Reach Chris at 330-775-1128 or chris.easterling@indeonline.com.
On Twitter: @ceasterlingINDE
Edited: Dec 09, 2013 2:19 PM by Benjamin Duer