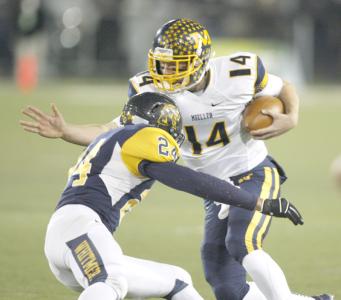 Elite quarterbacks to battle for Division I title
Dec 05, 2013 12:02 AM
BY CHRIS BEAVEN
Repository sports editor

A move out of prime time into the middle of Saturday afternoon should not diminish the star power found in the Division I state championship game.

Two of the state's finest high school quarterbacks — Gus Ragland of Cincinnati Moeller and Conner Krizancic of Mentor — lead their teams into the 3 p.m., title game at Fawcett Stadium.

"It'll be a nice matchup between the two, two guys who lay their hearts on the field for each school," Moeller head coach John Rodenberg said.

Ragland and Krizancic shared honors as the Associated Press Division I Offensive Player of the Year, as each has eclipsed 1,000 yards rushing and passing.

"We think their QB is pretty similar to our guy," Rodenberg said.

Their similarities extend to both being converted wide receivers and multi-sport athletes.

Ragland, a three-sport athlete, was playing receiver a year ago when he helped the Crusaders win a Division I state championship. He's become adept at the Moeller read option, gaining 3,270 yards of total offense and accounting for 44 touchdowns.

Ragland has rushed for 100 or more yards in six straight games, including 204 against Colerain two weeks ago.

"Gus is one of those guys that just puts his team on his back, a true Moeller guy," Rodenberg said. "This just means so much to him, just has one of those attitudes where he's not going to lose."

Krizancic, also a standout in basketball where he helped the Cardinals win a state title last season, was good enough at receiver to land a scholarship offer from the University of Cincinnati. He caught passes last year from Mitch Trubisky, who won Ohio's Mr. Football award.

Krizancic has put up 3,672 yards of total offense and accounted for 46 TDs in his first year taking snaps in the Mentor spread offense, which has been more balanced.

As good as the two quarterbacks are, as can be expected in a Division I final, there's lots of other playmakers on the field.

Mentor has three other first team All-Ohio players in receiver Brandon Fritts, defensive lineman Kent Berger and linebacker Justin McMahon.

"I think they've got a great offensive

system, and I think they play very, very sound defense," Rodenberg said.

Mentor's defense will look to contain Kent State recruit Isaiah Gentry, Moeller's top receiver who averages 24.9 a catch.

"They've got a great wideout on the

outside (in Gentry) who is dangerous and can do a lot of things," Trivisonno said.

Moeller also sends out an all-senior

offensive line to block for Ragland and a three-tailback rotation.
Edited: Dec 05, 2013 12:02 AM by bill snier