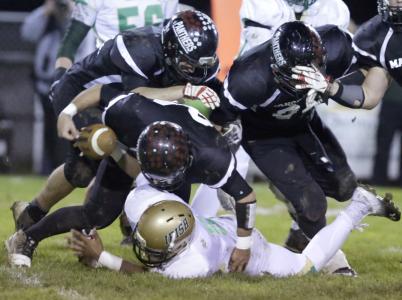 Manchester upsets four-time champ Ursuline
Nov 09, 2013 11:42 PM
BY MIKE POPOVICH
Repository sports writer

NEW FRANKLIN Even as a No. 1 seed, some didn't expect Manchester to take down mighty Youngstown Ursuline in the first round of the Division V, Region 7 playoffs.

The doubters were proven wrong Saturday night.

Matt Eidom's 22-yard field goal as time expired lifted Manchester to a 19-16 win over the four-time state champion Irish.

The Panthers drove 78 yards in the final 5:11 to book a spot in the second round where they will face PAC-7 rival Fairless. The teams played a three-overtime thriller won by the Falcons during the regular season.
VIDEO: Ursuline-Manchester highlights


Head coach Jim France has led Manchester to 14 playoff wins during his great career. This was one of the best.

"We were No. 1, but obviously they are a great football team," France said. "They beat Division I schools. They beat Steubenville, Walsh, teams that are out of our league.

"Our kids, I'm so proud of them. We beat them at their game. I think we outphysicaled them."

Mason Hayes and John Beavers powered Manchester's running game on the final drive and put Eidom in position to kick his winning field goal. Quarterback Pavin Parks also completed a key third-down pass to tight end Jesse Winter and moved the sticks again with a 13-yard run.

Hayes scored both Panthers touchdowns and led a rushing attack which lost Austin Klein to an injury earlier in the game.

"We knew we had to step it up," Hayes said. "It gave us motivation to play for our brothers, play for our team and get the job done."

Touchdown runs of 1 and 2 yards from Hayes in the second half turned Manchester's 9-3 deficit into a 16-9 lead. Ursuline tied the game at 16-16 with 5:17 left when Kimauni Johnson raced 55 yards for a TD.

The Irish offense never touched the football again. The Panthers put Eidom in position to win it with a chip shot.

"I was so confident, I knew we had it," Hayes said. "From the beginning, I knew we had it."

The Irish threatened on the game's opening drive. Johnson's 49-yard run powered them to the Manchester 29.

Ursuline's drive stalled at the 10 when Johnson was stopped a yard short of the first down. The Irish, however, ultimately took advantage of the favorable field position.

A holding penalty pushed the Panthers back to their own 5. Two plays later, Parks was sacked in the end zone for a safety and a 2-0 Ursuline lead.

Manchester and Ursuline went three and out on their next two drives before field position went in the Panthers' favor. They took advantage of an Irish fumble and grabbed a 3-2 lead late in the first quarter on Eidom's 31-yard field goal.

The Irish responded. Quarterback Chris Durkin, a Michigan State recruit, unleashed his speed on Ursuline's next drive and raced 48 yards for a touchdown to give the Irish a 9-3 lead.

The Panthers, however, rallied in the second half and will get another shot at Fairless. The Falcons edged them 49-48 in the first meeting.
VIDEO: Fairless-Manchester Preview


"That's great," France said of the matchup. "That's what we wanted from the day they beat us. We wanted to play them again.

"We're just happy to be in the second round. I don't think anybody gave us a chance in you know where to win this thing tonight. It's just a great, great victory for our program and our kids.

"They just played their butts off."
Edited: Nov 12, 2013 2:38 PM by Benjamin Duer