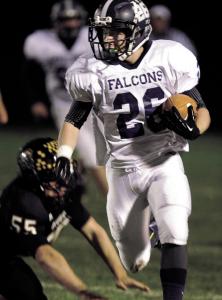 Fairless wins in slugfest with Black River
Nov 09, 2013 11:38 PM
By CHRIS EASTERLING
Independent sports editor

SPENCER Momentum teetered between Fairless and Black River throughout their Division V regional quarterfinal game Saturday night at Stevenson Field. But every time the momentum significantly worked its way toward the Pirates, the Falcons had a response that brought it back for them.

And because of that, because Fairless had a counterpunch to every Black River punch, it walked off the field with the program's first-ever playoff win, 51-42.

"We just knew that our offense could do it," said junior Austin Weyandt, who had an interception and a game-sealing touchdown for Fairless. "Our offense was better than their defense. We came in knowing we could do it, and we knew we could win this game."
VIDEO: Game Night - Nov. 9, 2013


The Falcons' reward for that first postseason win will be a rematch with PAC-7 rival Manchester next Saturday night at a site to be determined.

Those two played a triple-overtime thriller in Week Four, won by Fairless 49-48 at Brideweser Stadium. It was the Falcons' first win over Manchester since 1985.

Fairless, though, wasn't allowing itself too much time thinking about Manchester, at least on Saturday night. Instead, it was basking in its initial playoff win, which didn't feel secure until the Falcons scored on back-to-back fourth-quarter possession to make it 51-34.

The scores — a 1-yard Jeremy Mahaffey run and a 20-yard Hunter Wells-to-Weyandt pass — reversed the momentum Black River had secured when it cut the Fairless lead to 37-34 on Brock Waltz's 9-yard run with 10:02 remaining.

"I was just feeling it tonight," said Wells, who completed 16-of-28 passes for 284 yards. "The line did a good job protecting. ... The receivers did a great job catching the ball."

Of course, such momentum swings were plentiful in the game. And most went Fairless' way.

Black River scored on the game's first possession, a methodical 10-play march that ended with Andrew Vaughn's 5-yard scoring run to make it 6-0. But Mahaffey took the ensuing kickoff back 77 yards for a touchdown, giving the Falcons a 7-6 lead after Matt Bair's point-after kick.

"It was really big," Mahaffey said. "It said that we knew we could come from behind. We knew we were still in the game early."

After Black River's second drive ended in another touchdown and a two-point conversion for a 14-7 Pirate lead, Fairless needed just three plays to get back to even. This time, Wells hit Zack Kelly for a 54-yard touchdown pass to tie it at 14-14.

Fairless led 17-14 at halftime on Bair's 40-yard field goal. The Falcons then made it a two-score game on the first possession of the second half when Carter Casperd scored from three yards out for a 24-14 lead.

Black River used the passing game, a wrinkle in its run-heavy wing-T offense, to make it 24-20 on a 59-yard scoring pass from Waltz to Vaughn. Vaughn also had a 50-yard touchdown run later in the third, which cut it to 30-26.

Vaughn, Medina County's all-time leading rusher, finished with 148 yards on 29 carries.

But Fairless, again, responded both times.

The first time came when Mahaffey scored from three yards out one play after the two teams traded fumbles. The second time came when Casperd broke off the Falcons' second kickoff return for a score, an 80-yarder that made it 37-26.
Edited: Nov 10, 2013 2:16 AM by Benjamin Duer