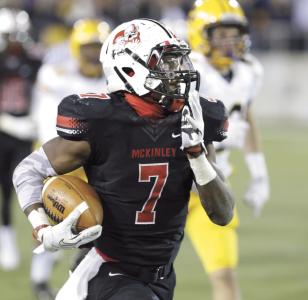 Big plays power Ignatius past McKinley
Nov 09, 2013 11:34 PM
BY JOSH WEIR
Repository sports writer

CANTON When a game unravels against the St. Ignatius Wildcats, it unravels quickly.

McKinley battled the Wildcats tough for most of a half during Saturday night's Division I, Region 1 high school football quarterfinal at Fawcett Stadium. But the Bulldogs saw all their hard work come undone in less than nine minutes of game clock, en route to a 38-14 loss to Ignatius.

A season that saw McKinley win its first nine games ended on a sour note, with a 34-7 loss to rival Massillon last week and the misfortune of earning a Week 11 home game and drawing the 11-time state-champion Wildcats.
VIDEO: St. Ignatius-McKinley highlights


"That's a good football team," McKinley head coach Todd Filtz said about Ignatius. "I thought our kids played hard and competed well in the first half."

That they did.

The Bulldogs (9-2) moved Ohio State recruit Eric Glover-Williams all around the offense, from quarterback to running back in the pistol to wide receiver in the slot. They found some success and equaled the Wildcats' first-half offensive output.

The McKinley defense played much better than the preseason meeting with Ignatius as it closed down the middle of the field, which the Wildcats exploited back in August. Darius Smothers picked off two Ignatius passes and James Smith one.

But the problem is Ignatius is a complete football team, and it was special teams that led to the Wildcats completely taking control of the first meeting between the two traditional powers in a game that counted since 2003.

McKinley tied the game at 7-7 in the second quarter on a big play from Glover-Williams. But the momentum was soon gone.

All-Ohio kicker Matt Colella booted a 47-yard field goal to put Ignatius up 10-7 with 4:32 left in the first half. Mike Vitale's 35-yard run set it up.

Minutes later, Ignatius' Kyle Daugenti fielded a punt in the middle of the field, started right, then cutback left to find daylight. He ran through one tackle on the left sideline en route to a 62-yard touchdown and a 17-7 Ignatius lead.

"We were playing them tough, then that punt return happened," Filtz said. "It kind of developed a little bit of separation in this game, and we just didn't make enough plays to rebound."

A short kickoff led to Ignatius (7-4) beginning the second half in McKinley territory. John Thomas found Nick Fabian for 29 yards on third-and-8. Stan Elad pounded in a 1-yard TD run two plays later for a 24-7 Wildcat lead.

McKinley snapped the ball over its punter's head moments later, giving Ignatius the ball deep in Bulldogs' territory. Mike Siragusa made a diving catch in the back of the end zone on Thomas' 6-yard TD strike, and the rout was on.

A 7-7 game with less than five minutes left in the first half became a 31-7 Ignatius lead less than five minutes into the second half.

"All week, I reminded kids: You can go through the history of playoffs and see how special teams have made big plays for us over the years," Ignatius head coach Chuck Kyle said. "I think our kids believed that. The field goals, the kickoffs, the punt returns — all these things add up to an important part of the game."

Fabian caught four passes for 123 yards, including a 55-yard TD in the first quarter.

Vitale ran 19 times for 127 yards and a fourth-quarter touchdown.

McKinley tied the game midway through the second quarter when Bryce Short hit Glover-Williams on a screen, and the electric junior did the rest for a 60-yard touchdown.

It was Glover-Williams' first long TD since Week 4 at Hoover and his second longest score of the season. He added a 28-yard TD run in the second half.

Glover-Williams finished with 68 yards on 13 carries. He also caught three passes for 70 yards and completed 1 of 4 passes for seven yards.

Filtz didn't want to let two bad weeks ruin a season that saw the Bulldogs take their third straight Federal League title and rise as high as No. 4 in the Associated Press state poll.

"The Bulldogs will be back," he said, "and we'll continue to build this great tradition."


Edited: Nov 10, 2013 2:13 AM by Benjamin Duer