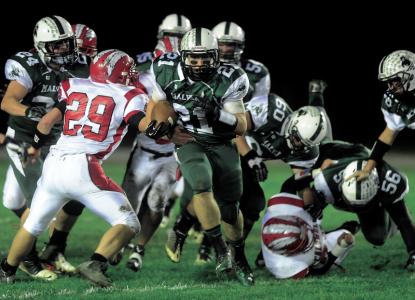 Fourth-down gamble helps Caldwell defeat Malvern
Nov 09, 2013 11:32 PM
BY ALEX KNISELY
Times-Reporter sports writer
MALVERN Facing a fourth and 3 at the Malvern 36, Caldwell went for broke.
And the move paid off.
Sophomore running back Bricker Lori scored on a 36-yard run with 1:10 left to lift Caldwell to a 28-21 win over host Malvern in a Division VII regional quarterfinal football contest Saturday night.
Caldwell improved to 9-2 on the season and will play in the regional semifinals Saturday night.
It was the Redskins' first playoff win in seven tries.
VIDEO: Caldwell-Malvern highlights
Malvern, champions of the Inter-Valley Conference, ended with a 8-3 ledger. The Hornets were making their 10th postseason appearance and seventh consecutive showing in the playoffs.
Malvern head coach Todd Shadle was proud of his troops, despite the loss.
"I told the kids be as proud as you can," said Shadle. "We're IVC champs, and no one expected this. We had a great year, and I couldn't ask for a better senior class."
"They did a better job of executing than we did," added Shadle. "It all comes down to assignment football."
Lori rushed for 111 yards on 17 carries and quarterback Tanner Clark added 108 yards on the ground and a rushing touchdown. Clark, who also tossed a pair of TD passes, was 7-of-14 through the air for 126 yards.
After the Redskins scored, the Hornets had one last chance to tie the score with possession at its own 36 with 1:10 left.
However, a big sack by the Redskins helped damage the Hornets' hopes of forcing overtime.
A 4th-and-22 play resulted a run by quarterback Trey Tucci that ended up short of the first down marker with 38 ticks to play.
Tucci fired a pair of touchdown passes to Mitchell Haasz as he was 6 of 8 for 133 yards and Cobin Plessinger rushed for 112 yards and a score to pace the Hornets' attack.
Caldwell took the opening kickoff, drove down the field and converted on a 4th-and-6 play as Clark tossed an 11-yard touchdown pass to Tanner Baker with 8:31 left in the first. The extra point by Jason Allen gave the visitors a 7-0 lead.
The Redskins struck again with 52 seconds left in the opening quarter when Clark hit Johnny Carpenter with a 39-yard scoring toss. With the extra point, Caldwell held a 14-0 advantage.
Malvern finally got on the scoreboard on a 18-yard scoring toss from Tucci to Haasz with 8:36 left in the second quarter. Anthony Ruegg's extra point cut the Caldwell lead in half at 14-7.
Malvern took the second-half kickoff and scored on a 1-yard plunge by Plessinger at the 6:45 mark of the third quarter. Ruegg's extra point evened things at 14-14.
"We're going to miss him (Plessinger)," said Shadle. "He deserved to be IVC Player of the Year without a doubt."
Caldwell came back to take a 21-14 lead on Clark's 38-yard run and an extra point by Allen.
Early in the fourth quarter, Malvern tied at the game 21-21 as Tucci hit Haasz with a 40-yard scoring toss and Ruegg's extra point followed at the 11:30 mark.
But Caldwell eventually had the last say and made it play off.
Reach Alex at 330-364-8425 or alex.knisely@timesreporter.com
On Twitter: @TRAlexSports
Edited: Nov 10, 2013 2:15 AM by Benjamin Duer