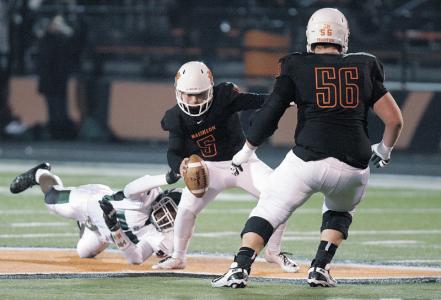 Massillon overcomes first-half miscues in victory
Nov 09, 2013 12:41 AM
By CHRIS EASTERLING
Independent sports editor

MASSILLON One of the things that helped Massillon roll to a Week 10 rout at McKinley was its ability to minimize the mistakes. Those little things that had been so costly for the Tigers in their two regular-season losses were nonexistent against the Bulldogs.

But as Massillon opened up the Division II playoffs Friday night against Nordonia at Paul Brown Tiger Stadium, some of those same little mistakes cropped up over and over in the first half. That left the Tigers in a dogfight over the first 24 minutes of the game.
VIDEO: Nordonia-Massillon Highlights


After halftime, though, it was a different story. Which is why Massillon was able pull away from the Knights for a 33-17 win to advance to next week's regional semifinals.

"We still had some mistakes," Massillon coach Jason Hall said. "We muffed a punt. There's times where they give me a heart attack. Our kids fight. ... You're not going to have a perfect game. This is a good football team. We're coming off our Week 10 rivalry game on a short week having played on Saturday. I thought the kids handled it well."

Massillon, which didn't turn the ball over in the win over McKinley, gave the ball up twice in the first half. That includes a fumble return for a score by the Knights that gave them one of their two first-half leads.

Massillon only led 16-14 at the break, despite a 216-139 edge in total yards. The Tigers finished with 322 total yards, to 232 for the Knights.

But in the second half, it was the Tigers who played almost flawlessly and the Knights who made the crucial mistakes. None maybe bigger than an interception by Massillon's Danny Robinson on the second play of the fourth quarter that he returned to the Knight 9.

It was "Knight time" after that, as J.D. Crabtree ran it in on the next play for a 33-14 Tiger lead.

The Tigers didn't turn the ball over after the break, while the Knights turned it over twice — and three times total. That helped Massillon put away Nordonia for the second year in a row.

"We made them earn pretty much everything but that first touchdown that they got," Hall said.

Still, Massillon made the degree of difficulty tougher on itself in the first half. A punt mishap on its first drive helped give the Knights good starting field position on what ended up being a scoring drive for a 7-0 lead.

Nordonia's second touchdown was directly set up by a miscue.

With the Tigers leading 13-7, a short completion by Massillon was fumbled into the hands of Nordonia's Alex Alders, who raced 25 yards for a Knight touchdown that put them in front 14-13 with 4:55 left in the first half.


Reach Chris at 330-775-1128
or chris.easterling@indeonline.com.
On Twitter: @ceasterlingINDE
Edited: Nov 09, 2013 4:01 AM by Benjamin Duer