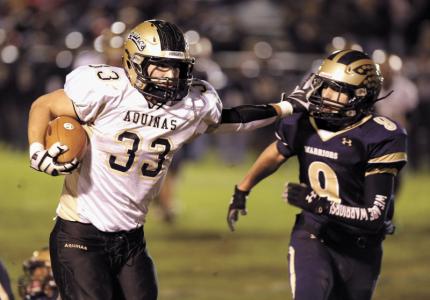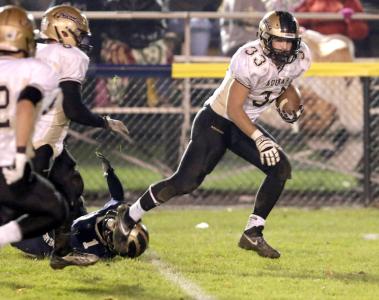 Moeglin leads Aquinas' rout of Brookfield
Nov 09, 2013 12:09 AM
By TODD PORTER
Repository sports writer

MASURY If Anthony Moeglin is being honest with you, he spent most of Friday reliving last year's disappointment. That fueled the St. Thomas Aquinas quarterback's play Friday night in a first-round playoff game.

Moeglin still had the taste of last year's disappointment in his mouth up until kickoff against Brookfield at George Nicholas Field, a few thousand feet from the Pennsylvania state line. A year ago, Moeglin threw an interception on a two-point conversion in a 51-50 loss to Columbiana Crestview in the first round.

As he walked off the field Friday night, he finally forgave himself. Of course, it took a 47-14 win over Brookfield in a Division VI, Region 19 quarterfinal to do so.
VIDEO: Game Night - Nov. 8, 2013


"I can tell you I hadn't gotten over last year's game until now," said Moeglin, who completed 11 of 19 passes for 239 yards and four touchdown passes. "All of my thoughts were about getting over the hump. I shouldn't be living in the past, but I let those seniors down last year. I got the monkey off my back."

The game was a bit of a bizarro-world contest. To get to Brookfield, Aquinas had to drive into Pennsylvania, then back into Ohio for a OHSAA playoff game. While the Knights controlled the first half, they didn't have momentum.

"I didn't question their manhood with the adversity they've overcome, and nine seniors and a rash of injuries, but we had to (toughen) up and stop No. 1 (Joe Clark). We had to tackle him," Aquinas head coach Tim Budd said. "Then I thought our defense fueled our offense."

In the first quarter, the Knights offense moved the ball, but had to settle for two Harris Knowles field goals for a 6-0 lead.

After Knowles drilled a 25-yarder, Brookfield had decent starting position at its own 42. But on second down, there was a miscommunication between quarterback and running back on an option. When quarterback Augustus Necastro pitched the ball, the closest person to it was Aquinas linebacker Frank DiMarzio. He picked it up and ran 35 yards for the first touchdown of the game and a 13-0 Knights lead.

The Warriors, who had 8 yards in the first quarter, got it going in the second. On fourth-and-6 from the Aquinas 28, a double pass from Necastro to running back Joe Clark to a wide open Marc Kraml went for a touchdown to cut the lead to 13-7.

Aquinas wrestled momentum back. Ja'Lon Humphries bit off 18 yards on a counter draw to the Brookfield 37. Then Alex Benedetti hauled in a 15-yard catch before absorbing a brutal hit along the sideline to the 22. Three plays later, Moeglin hit Sam Pusateri in the left flat at the 5, he slipped a tackle and trotted into the end zone for a 20-7 lead.

Brookfield was the beneficiary of an officiating mix-up on the next series. On second-14 from the Aquinas 39, Clark fell off balance and was called for false start. However, another official waved off the head referee and called Aquinas for offsides.

On the next play, Clark his a seam for 16 yards to the 8. He scored from the 11 two plays later.

The long-winded second quarter — close to 45 minutes long — concluded with the Knights holding a 20-14 lead.

"We knew we needed a three-and-out to start the second half," Moeglin said.

It was Moeglin who made a key third-down tackle to get the ball back. That was Brookfield's first punt.

"You saw they couldn't stop us in the first half," Moeglin said. "We moved the ball, but had to settle for field goals."

On his second play at QB in the second half, Moeglin hit Alex Benedetti on a slant and Benedetti weaved through the defense for a 67-yard TD.

Nate Hawkins recovered a fumble on the next series and the offense was back at it. Moeglin threw a perfectly placed fade to Pusateri for a 33-14 lead.

Pusateri caught five passes, three for TDs, for 105 yards. Humphries ripped off 128 yards on 16 carries on the ground.

The Knights will play state-power Kirtland next. Someone apologized to Budd after the game for the matchup.

He smiled.

"It's all fun," he said. "We're excited to play on."

Reach Todd at 330-580-8340
or todd.porter@cantonrep.com
On Twitter: @tporterREP
Edited: Nov 09, 2013 4:02 AM by Benjamin Duer