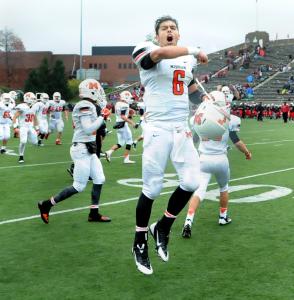 Massillon roars into playoffs in rout of McKinley
Nov 02, 2013 11:27 PM
By JOSH WEIR
Repository sports writer
CANTON Look out, Region 4.
The Tigers are coming.
Playing maybe its most complete game of the season, Massillon punched its ticket to the playoffs Saturday with a resounding 34-7 win against McKinley in the 124th edition of the Canton-Massillon high school football rivalry.
Two years after McKinley kept them out of the playoffs with a win in Week 10 at Fawcett Stadium, the Tigers returned to Fawcett on a rainy afternoon and did not let history repeat itself.
They used a huge special-teams play just before halftime to grab control. They rolled from there to their third straight win against McKinley, counting last year's Week 10 meeting and the playoff rematch.
VIDEO: Massillon-McKinley Highlights
The rest of Division II, Region 4 probably wish McKinley could have done them a favor and kept Massillon out of the playoffs.
The Tigers are in, and they look like a team that could stay awhile.
"We have a full head of steam," freshman quarterback Danny Clark said. "We're ready to go. These next five weeks are going to be unbelievable. Everybody better be ready."
The Tigers (8-2) host Nordonia next week at Paul Brown Tiger Stadium.
After mistake-filled losses to undefeated teams Fitch and St. Vincent-St. Mary two of the past three weeks, the Tigers didn't look fazed by the do-or-die nature of Saturday's game.
"We had fun this week," Massillon head coach Jason Hall said. "We carved pumpkins. (Friday), our seniors got to mock our coaches and imitate them in front of the whole team. I don't want my kids uptight."
They weren't.
Lyron Wilson ran for 184 yards on 26 carries as Massillon's big offensive line controlled the trenches. On the other side of the ball, Massillon's front seven bottled up junior Eric Glover-Williams and McKinley's one-dimensional offense.
The Bulldogs missed on a chance to go 10-0 for the first time since 2005, but they can take solace in the fact they're still hosting a playoff game next week in Division I, Region I. Of course, it appears the opponent will be St. Ignatius. Official pairings will be announced today.
"Right now, a bunch of guys are hurting. A bunch of coaches are hurting," McKinley head coach Todd Filtz said. "That's how it's supposed to be. ... I'm not worried about where our mentality is. Come Monday, we need positive senior leadership."
Saturday's biggest moment happened just before halftime.
Down 7-0, McKinley drove to Massillon's 20 and, facing a fourth-and-2, decided to run the clock down to try a 37-yard field goal with three seconds left.
Massillon's Marcus Whitfield blocked Austin Shaheen's attempt. Chaos ensued. The ball shot towards midfield. Both teams had chances to grab it. The ball squirted free one last time.
Massillon's Alex Dailey grabbed it and ran 45 yards for a back-breaking touchdown with time expired.
"I really have to credit that, No. 1, to Marcus Whitfield, for the block and, No. 2, to Malik Dudley," Dailey said. "He could have tried to pick up the ball when there was a defender right behind him. Instead, he laid a block to let another teammate get it. That's being unselfish."
Instead of being down 7-3 — a deficit McKinley would have felt fortunate with after being thoroughly outplayed to that point — the Pups faced a 14-0 hole and a wave of momentum.
"I think from an emotional standpoint, it was bigger than the points," Filtz said. "That was a devastating blow that we had to recover from."
McKinley fell behind 24-0 midway through the third quarter. Clark hit Reggie Rogers over the top for 43 yards. Two plays later, Clark dump-trucked a McKinley defensive back during a 2-yard TD run.
Saive Isles' fifth interception of the season had the ball right back in Massillon's hands. That led to a 35-yard Andrew David field goal and the 24-0 lead.
McKinley's Nikolas Ricks gave the Bulldogs a breath of life with an 80-yard TD run on the first play of the ensuing possession. But the Bulldogs simply could not sustain offense. They were 3-of-11 on third downs and lost the time of possession battle 30:29 to 17:31.
Glover-Williams, who has been hobbled by an ankle injury since Week 5, appeared to have his burst back. However, Massillon was game and limited the Ohio State recruit to 73 yards on 18 carries.
"He looked pretty fast around the outside," Massillon defensive end JD Crabtree said. "But we contained him well."
Crabtree's 2-yard TD run capped the opening possession of the game and gave Massillon a 7-0 lead. The Bulldogs had Massillon stopped for a three-and-out, but they jumped offsides during a punt shift. A 51-yard run by Wilson set up Crabtree's score.
After a 30-yard David field goal early in the fourth quarter, Whitfield ended the scoring with a 15-yard TD catch from Clark.
Despite being sacked three times, Clark was an efficient 7-of-12 passing for 84 yards, the one TD and no interceptions.
McKinley completed two passes on the day.
Reach Josh at 330-580-8426 or josh.weir@cantonrep.com
On Twitter: @jweirREP
Edited: Nov 03, 2013 8:48 PM by Benjamin Duer