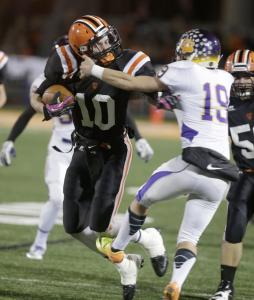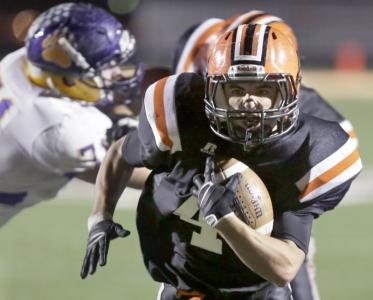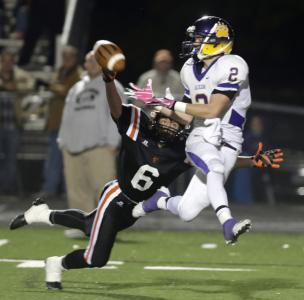 Hoover continues home mastery against Jackson
Nov 02, 2013 12:42 AM
By DAVID HARPSTER
Independent sports writer

NORTH CANTON The Jackson Polar Bears entered Friday's annual grudge match against the rival Hoover Vikings needing a win and some help to secure a Division I playoff berth.

The Vikings made any scoreboard watching by the Polar Bears and their fans moot, though, as they pulled away from Jackson in the second half for a 51-42 win at North Canton Memorial Stadium.

The win allowed Hoover to close out a disappointing season on a high note, as the Vikings finished 4-6 overall and 3-3 in the Federal League. Jackson closed at 6-4, 4-2.
VIDEO: Jackson-Hoover highlights


The win continued the Vikings' history of dominance over Jackson on their home field. Jackson entered Friday having only won twice at Memorial Stadium (2001, 1983) in the last 30 years.

Hoover quarterback Luke Grandjean rushed for 197 yards and three touchdowns, and passed for 127 yards and two more scores in controlling the game throughout for Hoover. His final score, a 46-yard dash with just 1:42 left put Hoover up 51-34 and iced the win.

"Jackson is a heck of a team but we just made some plays," said Hoover coach Don Hertler Jr., who picked up career win 199 and also improved to 16-4 against Jackson. "Luke Grandjean was incredible and our line controlled things pretty well. For us to get 50 points ... I didn't know about that. I'm just really happy for our seniors. We've lost a lot of close, tough games this year. We finally won one tonight."

Neither team's defense could get much going in the first half, as the teams took turns scoring after Jackson's Ricky Spradling opened the scoring with a 45-yard touchdown run at the 8:42 mark. Spradling, who finished 184 yards and four scores, added two more first-half scoring runs. Hoover countered with Chris Bledsoe's 1-yard plunge, Zach Johnson's 11-yard pass from Grandjean and a 27-yard TD run from Grandjean.

With the score tied 21-21 late in the second quarter, Jackson appeared ready to take a 28-21 lead into half. But first Spradling's 11-yard touchdown run was negated by a holding penalty. Then, four plays later, Hoover recovered a Jackson fumble inside the Vikings' 5 with just 30 seconds left in the half.

"That play before the half was huge and then we fumbled again when they got up," Jackson coach Beau Balderson said of the Bears' two turnovers. "Hoover turned the ball over all season but they didn't turn it over against us.

"If we could've gotten up by two scores we knew we'd have them in a good position. It's unfortunate when you put up over 40 points and don't win a game. It's unacceptable."

Tyler Howell's 10-yard run gave Hoover its first lead of the game, 28-21, as Andrew Zalewski tacked on the PAT to complete the Vikings' first drive of the third quarter.

Spradling's 2-yard run later in the quarter, and Jerome Costin's point-after, tied it at 28-28, but Zalewski's 32-yard field goal sent Hoover to the fourth up 31-28.

Hoover took control in the first four minutes of the fourth, as Grandjean hit Jake Garfield on a 26-yard scoring pass for a 37-28 lead just 50 seconds into the quarter. Garfield then recovered a fumble on Jackson's first play from scrimmage to set the Vikings up in prime scoring position.

Hoover didn't waste it, as five plays later Grandjean faked right and dashed around the left side untouched into the end zone. Zalewski's PAT made it 43-28 with 8:46 left.

"We finally got the lead there. Our kids have battled all year and I can't say enough about the way they hung in there," Hertler Jr. said. "Luke got through a lot tonight. More importantly we had some receivers make some good catches for us. We put it all together tonight."

Jackson quarterback Tyler Langenfeld hit Tyler Furbay from 25 yards out for the Bears' final score, but it only changed the final margin. Langenfeld 21 of 31 passing for 293 yards.

"Our seniors set sort of a standard with what they did in the offseason and they made some memories that are going to live with them forever," Balderson said.

Reach David at 330-775-1129
or at david.harpster@indeonline.com
On Twitter: dharpsterINDE
Edited: Nov 02, 2013 3:18 AM by Benjamin Duer